The central part of
India
, till recently comprised of the biggest states of India,
Madhya Pradesh
. Now it has been split in to two with Madhya Pradesh and Chhattisgarh.

A predominantly tribal state, with about 35 big and small tribes spread all over, Chhattisgarh is perhaps the most economically strong region of the country, and is endowed with rich mineral and forest wealth. It has a potential of becoming an important industrial centre.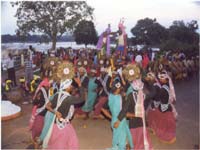 Dominated by he tribals, other than the major
Indian festivals
, all the tribes have their own respective
festivals
with their own culinary and dancing affairs. Cherchera celebrated after the harvest is the unique festival of the people of Chhattisgarh, when they go asking for rice, the staple crop. The rice then is cooked and eaten; a traditional way of distributing what one reaps. Chhattisgarh has its own dance styles, cuisine, music & traditional folk songs in which Sohar songs, Bihav songs & Pathoni songs are very famous. For the tribes, the Bhils and the Gonds, every
festival
is followed by some sort of animal sacrifice. The tribals of Bastar often complement their economy by community hunts like Pandum and Parad.
Situated in the center,
Madhya Pradesh
was once the largest state in
India
. A visit to this land, in the very heart of India gives unexpected and delightful experiences.
Madhya Pradesh
has had a glorious past with various empires ruling the state. It has centuries-old culture of warriors and Builders, of Poets and Musicians, of Saints and Philosophers.
The Gana Gour festival is celebrated with much gaiety in
Madhya Pradesh
. The people believe that Gour, wife of Shiva, was married to Shiva and they stayed in Rajasthan. She could come home only once a year. This coming back is celebrated by these people here. They make small idols of the Gour and worship her along with her husband. The Gordhan festival celebrated after Diwali has its history in the legend of Krishna, who saved his village from drowning by holding the mighty Govardhan Mountain. Gordhan is celebrated as the
festival
of cows and cattle. The cattle is decorated and fed goodies on this day.