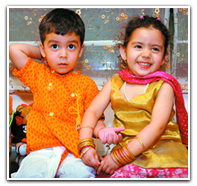 The first full moon falling in August celebrates the relations between a brother and a sister. On this day sisters tie a sacred thread called Rakhi on their brothers' wrists and pray for their well being while the brothers return the love by gifting them and promising to take care of the sisters for the rest of their lives.
In
India
, festivals are the celebration of togetherness, of being one of the families.
Raksha Bandhan
is one such festival that is all about affection, fraternity and sublime sentiments. It is also known as Raksha Bandhan which means a 'bond of protection'. This is an occasion to flourish love, care, affection and sacred feeling of brotherhood.
Owing to the regional influence of the local legends and their relevance in different parts of the country, the celebrations of Rakhi vary throughout
India
. This festival is primarily known as being associated with the north and north western part of the country. But, it can be safely said that with changing times and the world having become a smaller place, this occasion has gained popularity in many parts of this country and even so the world.
According to one mythological allusion, Rakhi was intended to be the worship of the sea-god Varuna. Hence, offerings of coconut to Varuna, ceremonial bathing and fairs at waterfronts accompany this festival.There are also myths that describe the ritual as observed by Indrani and Yamuna for their respective brothers Indra and Yama.
Once, Lord Indra stood almost vanquished in a long-drawn battle against the demons. Full of remorse, he sought the advice of Guru Brihaspati, who suggested for his sortie the auspicious day of Shravan Purnima (fullmoon day of the month of Shravan). On that day, Indra's wife and Brihaspati tied a sacred thread on the wrist of Indra, who then attacked the demon with renewed force and routed him.